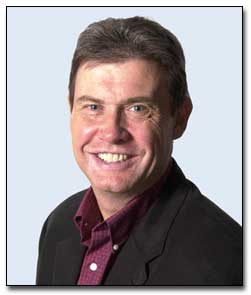 Kevin Paul Dupont
After 25 stellar years of covering hockey, Kevin Dupont is the recipient of the 2002 Elmer Ferguson Memorial Award for his contribution to print media, as voted by the Professional Hockey Writers' Association.

Born in Springfield, Massachusetts, Dupont caught his first taste of professional print media back in 1973 as a copyboy (editorial assistant) with the Boston Globe, while attending Boston University. The Boston Herald American later hired Dupont in the summer of '77 as a staff sports writer. His first season covering the NHL beat was 1978-79, a memorable and "colourful" season considering it was Don Cherry's last year with Boston.

Dupont left the Herald American in 1983 to join the New York Times, where he covered all three area NHL teams (Isles, Rangers, Devils) for the next two years. Kevin returned to the Boston Globe and has spent the past 17 years reporting on a wide variety of sports, with a prime focus on hockey and the Winter/Summer Olympics Games (Calgary, Seoul, Albertville, Barcelona, Lillehammer, Atlanta, Nagano and Sydney).

Never one to hold back an opinion, Dupont has also contributed to the Hockey News, ESPN The Magazine, MSNBC on-line, WWZN-1510 AM sports radio in Boston and the television network NESN.