The Toronto organization boasts the
most Honoured Members with 62 -
pictured are Inductees Teeder Kennedy, Turk Broda and Syl Apps
---
Honoured Members Who Have Had Their
Waiting Period For Induction Waived (10)
---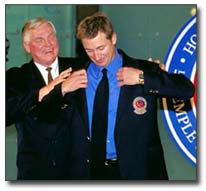 Wayne Gretzky dons his Honoured Member blazer

The Hockey Hall of Fame Board of Directors eliminated the right of the Selection Committee to waive the mandatory three-year waiting period for Induction in the Player Category (except under certain humanitarian circumstances) in 1999, after Wayne Gretzky received such an honour.

1947 - Dit Clapper retired on February 12, 1947.
1961 - Maurice "Rocket" Richard retired following the 1960-61 season.
1966 - Ted Lindsay retired in 1965.
1969 - Leonard "Red" Kelly retired in 1967.
1971 - Terry Sawchuk passed away in Summer of '70.
1972 - Jean Beliveau retired in 1972.
1972 - Gordie Howe retired in 1972, came out of retirement in 1973.
1979 - Bobby Orr retired in 1979 due to knee injury.
1997 - Mario Lemieux retired in 1997, came out of retirement in 2000.
1999 - Wayne Gretzky retired in 1999.




---
Honoured Members Who Returned To The NHL As Players (3)
---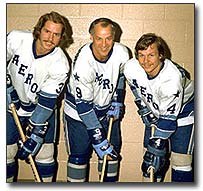 Gordie Howe flanked by sons Marty and Mark

1979 - Gordie Howe was inducted in 1972. He came out of retirement for the 1973-74 WHA season to play alongside his two sons, Marty and Mark. Gordie was a two-time WHA FirstTeam All-Star and WHA MVP (1974) before returning to the NHL for one last season (1979-80) as a member of the Hartford Whalers.

1988 - Guy Lafleur was inducted in 1988. Guy played three additional seasons in the NHL, one with the Rangers and two with Nordiques, and tallied 52 goals over that period.

2000 - Mario Lemieux was inducted in 1997. Upon returning to the NHL, Mario won the Lester Patrick Trophy (2001), Olympic Gold Medal (2002), and averaged over one and a half points per game (more than any other player during that period).






---
Honoured Members Elected in the Veteran Player Category (11)
---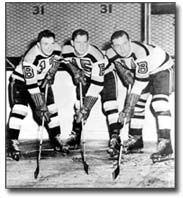 Bobby Bauer, Milt Schmidt and Woody Dumart were united in the Hockey Hall of Fame after Bobby and Woody were inducted through the Veteran Comittee Category

The Veteran Player Category was established in 1988 to provide a vehicle for players who may have been overlooked and whose chances for election would be limited when placed on the same ballot with contemporary players. Since its inception, 11 players have been elected in the Veteran Player Category, all of who are now deemed to be Honoured Members in the Player Category. On March 28, 2000, the Hockey Hall of Fame Board of Directors eliminated the Veteran Player Category.

1988 - Buddy O'Connor*
1989 - Herbie Lewis
1990 - Fern Flaman
1991 - Clint Smith
1992 - Woody Dumart
1993 - Edgar Laprade
1994 - Lionel Conacher* & Harry Watson
1995 - Fred "Bun" Cook*
1996 - Bobby Bauer*
1998 - Roy Conacher*
(* - inducted posthumously)



---
Honoured Members Elected in the Player Category
Who Had Their Careers Tragically Cut Short & Inducted Posthumously (11)
---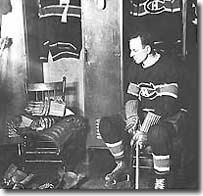 Aurele Joliat mourns the loss of teammate Howie Morenz

Hobey Baker (inducted in 1945) served as a US pilot during World War 1. He survived the War but crashed and died while testing a new plane on December 21, 1918 at the age of 26.

Jack Darragh (inducted in 1962) succumbed to peritonitis in the summer of 1924 at the age of 33.

Scotty Davidson (inducted in 1950) enlisted for military service after World War I broke out in 1914 and was killed in Belgium on June 6, 1915. Davidson was 25.

Chuck Gardiner (inducted in 1945) died of a brain tumour at the height of his career on June 13, 1934 at the age of 29.

Joe Hall (inducted in 1961) and almost all of his teammates fell ill during the 1919 Stanley Cup Final, with a number of them requiring hospitalization. Everyone recovered except for Hall who contracted pneumonia as a result of the flu and died in hospital on April 5, 1919. He was 37.

Tim Horton (inducted in 1977) was killed in the morning of February 21, 1974, in a single-car crash while driving home to Buffalo after a game against Toronto in which he was named the game's third star. Horton was 44.

Valeri Kharlamov (inducted in 2005) was killed, along with his wife, in a tragic car accident on the highway between St. Petersburg and Moscow on August 27, 1981. Kharlamov was 33 years of age.

Howie Morenz (inducted in 1945) suffered a broken leg in a home game against the Black Hawks on January 28, 1937. It was generally agreed that the injury would end his career at the age of 34. A few weeks later, on March 8, the hockey world was stunned by the news of Morenz's death, brought on by complications related to his injury.

Terry Sawchuk (inducted in 1971) fell awkwardly on teammate Ron Stewart after some playful wrestling at a bar in New York. Sawchuk had to be rushed to hospital, where his gall bladder was removed, and just a month later he died from internal injuries at the age of 40.

Hod Stuart (inducted in 1945) traveled to Brockville, Ontario in the early summer of 1907 to oversee the construction of the Belleville Drill Shed, a job his father's company was contracted for. During a break from work, Stuart suffered a fatal injury when he struck his head on rocks while diving into the unfamiliar waters at the Bay of Quinte.

Georges Vezina (inducted in 1945) experienced great fatigue through training camp workouts prior to the 1925-26 season. Despite a high fever, he performed admirably in the Canadiens' season opener versus the Pittsburgh Pirates. Vezina eventually was forced to retire from the game after being diagnosed with advanced tuberculosis. He passed away on March 27, 1926 at the age of 39.
---
Female Honoured Members (7)
---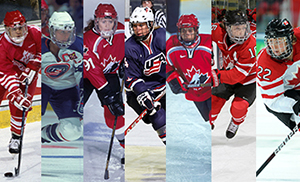 On March 31, 2009, the Hockey Hall of Fame announced that its by-laws had been amended to establish a new voting procedure in the player category that allows for an annual limit applicable to female candidates given the consensus among the Board that female candidates ought not to compete with male candidates for limited places of Honoured Membership. Since that time seven female players have achieved Honoured Member status.
2010 - Cammi Granato
2010 - Angela James
2013 - Geraldine Heaney
2014 - Angela Ruggiero
2017 - Danielle Goyette
2018 - Jayna Hefford
2019 - Hayley Wickenheiser






---
Formal Induction Venues
---
On Saturday, September 5, 1959, thirty-one of the thirty-four living members of the Hockey Hall of Fame attended a luncheon in the Queen Elizabeth Building at the CNE. Each was presented with the official HHOF crest.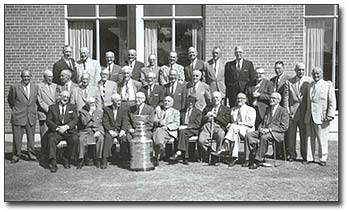 The first formal induction took place in 1959. All but Donald Bain, Frank Patrick and Senator Donat Raymond of the 34 living Honoured Members were present

September 5, 1959 - Canadian National Exhibition, Toronto
September 8, 1960 - Canadian National Exhibition, Toronto
August 26, 1961 - Canadian National Exhibition, Toronto
August 25, 1962 - Canadian National Exhibition, Toronto
August 24, 1963 - Canadian National Exhibition, Toronto
August 29, 1964 - Canadian National Exhibition, Toronto
August 28, 1965 - Canadian National Exhibition, Toronto
August 27, 1966 - Canadian National Exhibition, Toronto
September 2, 1967 - Canadian National Exhibition, Toronto
June 11, 1968 - Canadian National Exhibition, Toronto
August 21, 1969 - Canadian National Exhibition, Toronto
August 27, 1970 - Canadian National Exhibition, Toronto
August 26, 1971 - Canadian National Exhibition, Toronto
August 24, 1972 - Canadian National Exhibition, Toronto
August 23, 1973 - Canadian National Exhibition, Toronto
August 22, 1974 - Canadian National Exhibition, Toronto
August 28, 1975 - Royal York Hotel, Toronto
August 26, 1976 - Royal York Hotel, Toronto
August 25, 1977 - Royal York Hotel, Toronto
September 13, 1978 - Royal York Hotel, Toronto
September 12, 1979 - Royal York Hotel, Toronto
September 8, 1980 - Hotel Toronto
September 15, 1981 - Westin Hotel, Toronto
September 8, 1982 - Royal York Hotel, Toronto
September 22, 1983 - Toronto Hilton
September 25, 1984 - Royal York Hotel, Toronto
September 12, 1985 - The Sheraton Centre, Toronto
September 10, 1986 - Hotel Vancouver
June 15, 1987 - Westin Hotel Renaissance Ballroom, Detroit, MI
September 7, 1988 - Metro Convention Centre, Toronto
October 3, 1989 - Metro Convention Centre, Toronto
September 24, 1990 - Westin Harbour Castle, Toronto
September 23, 1991 - Ottawa Congress Centre
September 21, 1992 - Roy Thomson Hall, Toronto
November 16, 1993 - Hockey Hall of Fame, Toronto
November 15, 1994 - Hockey Hall of Fame, Toronto
November 21, 1995 - Hockey Hall of Fame, Toronto
November 25, 1996 - Hockey Hall of Fame, Toronto
November 17, 1997 - Hockey Hall of Fame, Toronto
November 16, 1998 - Hockey Hall of Fame, Toronto
November 22, 1999 - Hockey Hall of Fame, Toronto
November 13, 2000 - Hockey Hall of Fame, Toronto
November 21, 2001 - Hockey Hall of Fame, Toronto
November 4, 2002 - Hockey Hall of Fame, Toronto
November 3, 2003 - Hockey Hall of Fame, Toronto
November 8, 2004 - Hockey Hall of Fame, Toronto
November 7, 2005 - Hockey Hall of Fame, Toronto
November 13, 2006 - Hockey Hall of Fame, Toronto
November 12, 2007 - Hockey Hall of Fame, Toronto
November 10, 2008 - Hockey Hall of Fame, Toronto
November 9, 2009 - Hockey Hall of Fame, Toronto
November 8, 2010 - Hockey Hall of Fame, Toronto
November 14, 2011 - Hockey Hall of Fame, Toronto
November 12, 2012 - Hockey Hall of Fame, Toronto
November 11, 2013 - Hockey Hall of Fame, Toronto
November 17, 2014 - Hockey Hall of Fame, Toronto
November 9, 2015 - Hockey Hall of Fame, Toronto
November 14, 2016 - Hockey Hall of Fame, Toronto
November 13, 2017 - Hockey Hall of Fame, Toronto
November 12, 2018 - Hockey Hall of Fame, Toronto
November 18, 2019 - Hockey Hall of Fame, Toronto